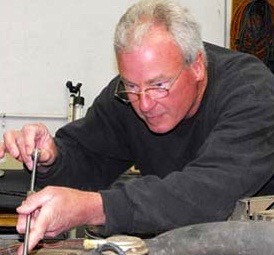 Happy One Year Exoneration Anniversary to Jason Krause!
On June 24, 1994 an 18 year old man named Charles Thurman was shot and killed in his Jeep alongside his three friends Terry Eckerman, Amanda Miller, and Stacy Clark in Arizona. His friends testified that he had been causing his Jeep to backfire intentionally at the time when he was fatally shot. The shooting occurred near the home of 39 year old Jason Krause who at the time was out hunting skunks with his .22 caliber rifle. When he heard the car backfire he believed that he heard gunshots so he dropped to the ground at which point he believed that his gun accidentally fired. At least 12 people in the area that were interviewed by police said they heard gunshots that they believed to be coming from the Jeep. But when police told Krause that Thurman's friends in the car with him reported that there was no guns in the car he told them that he must've been the one to shoot Thurman.
Krause was charged with second-degree murder and three counts of attempted second-degree murder. Eckerman, Miller, and Clark all testified in court that there were no guns in the car despite the .22 caliber shell casings found on the floor of Thurman's Jeep. Another important piece of testimony came from FBI Special Agent Earnest Peele who testified as an expert in comparative bullet lead analysis (CBLA). Peele testified that the bullets found in Thurman's body and his tires were indistinguishable from those found in Krause's home.
When it came time for Jason Krause to take the stand he admitted that he had been out hunting skunks with his .22 caliber at the time. He said he heard what he believed were several gunshots and the sounds continued to get closer. Krause testified that he was terrified and he hit the ground, at which time his riffle fired while the Jeep passed by. He admitted that he "must have shot that boy" but he did not recall how it happened.
In May of 1996 Krause was acquitted of second-degree murder but convicted of manslaughter and three counts of attempted manslaughter. He was sentences to 10 years and 6 months in prison and served his entire sentence.
In 2007, one year after Krause's release, the FBI started a CBLA task force after shredding any validity of CBLA as a credible forensic science. In 2008 they sent a letter to the County Attorney's office stating that the testimony Peele gave in Krause's trial could not be supported by the FBI because it was not supported by science. Thus, Jason Krause reached out to the Arizona Innocence Project.
A post-conviction petition was filed by his attorneys in 2012 to overturn his conviction based on the invalid CBLA testimony. At an evidentiary hearing, one expert testified that it would have been impossible for Jason Krause to have been the one to fire the fatal shot that killed Thurman. Another expert testified that the fatal shot came from the back seat. The defense argued at the hearing that it simply was not possible that Jason Krause fired the fatal shot to Thurman's head from 50 feet away as his Jeep sped by. His trial attorney argued that if he had known the lack of validity for CBLA, he would not have argued for an accidental shooting at trial.
In 2013 the petition was denied by Judge Rick Williams because, in his opinion, this information would not have changed the jury's opinion. He stated that Krause's confession led the jury to convict. However, the Arizona Court of Appeals granted Krause a new trial in 2015. The prosecution tried to appeal this decision but they were denied. Finally, on March 1st 2017, the charges against Jason Krause were dismissed when the prosecution denied to retry the case.